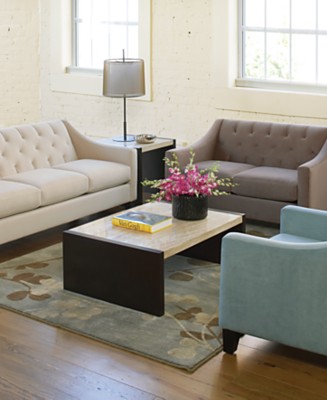 When Derek and I moved in together, I left the limited furniture I had in NYC behind, shipped my small belongings, flew across the country with a couple of suitcases, and agreed to use Derek's acquired (mainly free stuff he got from friends who were moving/deploying) furniture as we slowly and frugally worked to acquire pieces of our own.
Thus far, we've been incredibly fortunate with some awesome Craigslists finds including a kitchen table, desk, and stereo cabinet, but the pieces I'm most eager to replace are our very oversized couch, loveseat, and chair which are not only too big for our space, but require annoying couch covers which slip, slide, and constantly look disheveled.
This past weekend, we started the hunt for a new couch and loveseat (we'll do a separate set of patterned chairs) and fell head-over-heels for the
Chloe set from Macy's
. As far as furniture costs go, it's pretty reasonable (will be about $1,200 with coupons and can be financed) but Derek and I aren't positive it's the right time to make the investment.
I've been on the hunt for a less expensive but similar alternative, but everything I see pales in comparison to this set. Do you have any tips on where to buy a stylish sofa? Seen anything like my Chole set out there? Please do let me know!
images from macys.com